BACK TO RESOURCES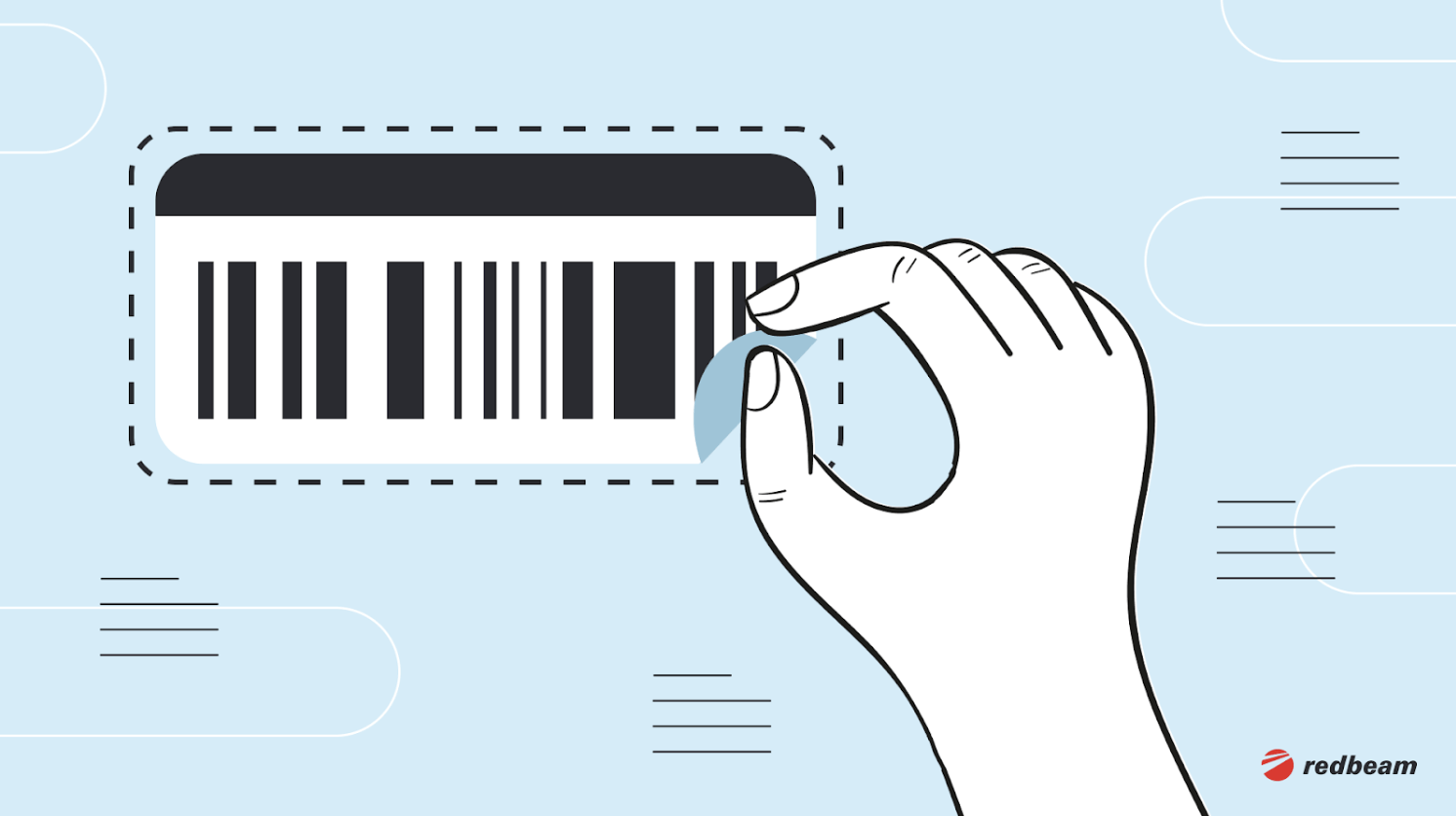 Fixed Asset Labels: 5 Reasons To Tag Your Organization's Property
Asset labels are a great way to create an accurate and up-to-date list of all your company's fixed assets. They ensure that each of your organization's valuable assets have a unique label, allowing you to track assets, identify redundancies, and avoid losses. The problem is that many companies don't use them, or they only sporadically update their tag information. This leads to inaccurate data about the company's assets and results in unnecessary waste.
In this blog post, you'll learn what asset labeling is and why businesses use it. Then we'll cover the top 5 reasons you should be using fixed asset labels to keep track of your company's investments.
What is asset labeling?
Asset labeling is when an organization (business, school, agency, etc.) uses asset labels (also called asset tags) to identify and track their fixed assets. Fixed assets are the tangible pieces of property that allow an organization to function and create value. They're pieces of equipment that a business uses for more than one year.
For example, a supermarket's fixed assets will include the shelving units where products are displayed, the meat slicer at the deli, and even the shopping carts customers use. The supermarket invests in these assets and uses them to create value for customers over several years. Asset tracking enables the business to keep records of what property they have, what condition it's in, and how much it is worth. And asset labels are a key part of asset tracking.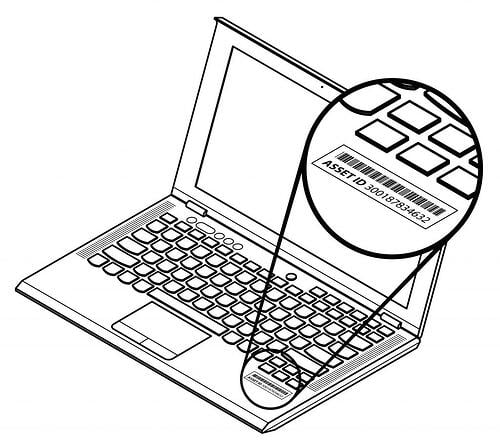 Asset labels are the tags or stickers that you apply to assets, which gives them a unique identifier, like a serial number, barcode, or RFID tag. You can then use data capture devices and asset management software to keep up-to-date records.
The barcode or other tag is linked to a record in the asset management system, where important details like product model and date of purchase are stored.
Why do we label assets?
Organizations label assets because they are important investments. Whatever a particular asset costs, the company wants to get as much use and value from it as possible. In the case of construction firms, for instance, heavy equipment like excavators and concrete mixers cost tens of thousands of dollars. Asset tagging and tracking help ‌firms monitor these investments and maximize their value.
What's more, the rise of the information worker means that businesses issue laptops to employees. Fifty years ago, employees might have misplaced a notepad or a pen, but today you are trusting employees with valuable equipment. Asset labels help you keep track of who is using what (and whether they return it).
Beyond monitoring investments in physical property, asset labeling also helps reduce loss and theft. And once your property is tagged, the system enables quick inventory counts by eliminating repetitive data entry.
1. Fixed asset labels are cost-effective
The primary purpose of fixed asset tags is to identify fixed assets as they move around your organization or into inventory (if fixed assets are not already inventoried). For fixed assets that are often moved, such as construction equipment or vehicles, asset labels make it much easier for staff to keep track of them.
Asset labels are relatively inexpensive, especially if you use barcode labels. You can get custom metalized tags for less than a dollar each. It's a small investment that identifies your property both visually and in asset audits.
2. Asset labels are useful across industries
Fixed asset tags are used by many different types of organizations. Their cost-effectiveness and ease of use make them suitable for organizations of all sizes and industries. As we mentioned above, asset tagging is smart for industries like construction, where heavy machinery is a long-term investment. And corporations can use asset labels to keep track of technology.
Some other common users of asset labels are:
Schools

(From K-12 to Colleges and Universities)

State, Local, and Federal Government Agencies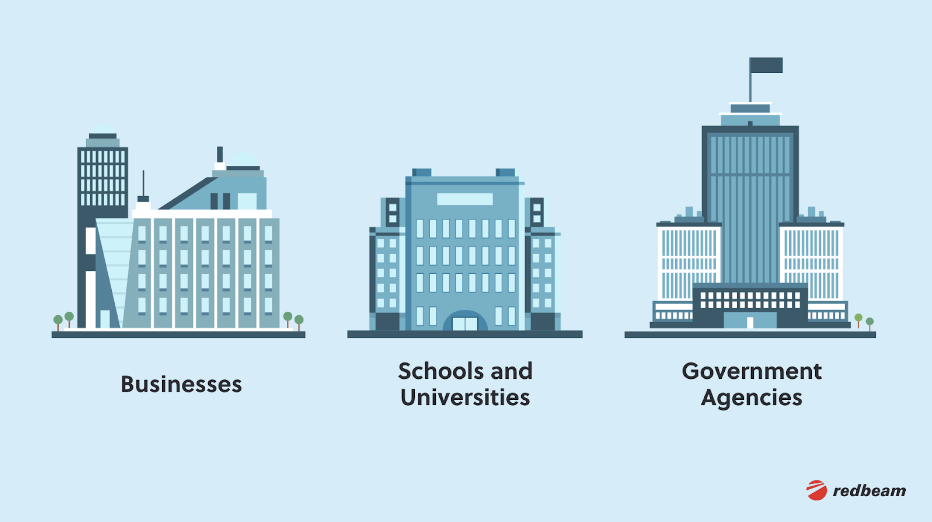 They are especially popular with organizations looking to reduce taxes and insurance, save time looking for physical assets and taking inventories, and may even be required to maintain regulatory compliance.
3. Asset tags are customizable to fit your needs
You can put as little or as much information on the fixed asset tag as you like. Two things to keep in mind:
Tags should always include the company name so they are easily identifiable by employees and customers.

Each tag should also have its own unique number – these numbers help ensure accuracy when counting inventory or checking against purchase orders.
Also, if you're using (or plan to use) a fixed asset tracking system, make sure to include this unique number in a barcode ID. Barcode technology is the key to simplified record-keeping and reduction of label costs due to shorter time of inventory data enter.
Radio frequency identification (RFID) and Bluetooth beacon (BLE) technology may also be used. These technologies enable a tag to be "read" without physically scanning the barcode, which can be helpful for high dollar items or where many items are stored closely together such as a server room or tool crib.
4. Asset labels are easy to buy online or print your own
A wide variety of durable custom and pre-printed asset tags are available online. You can also print asset tags using a dedicated barcode label printer. In general, the more labels you need, the more cost-effective it is to print your own.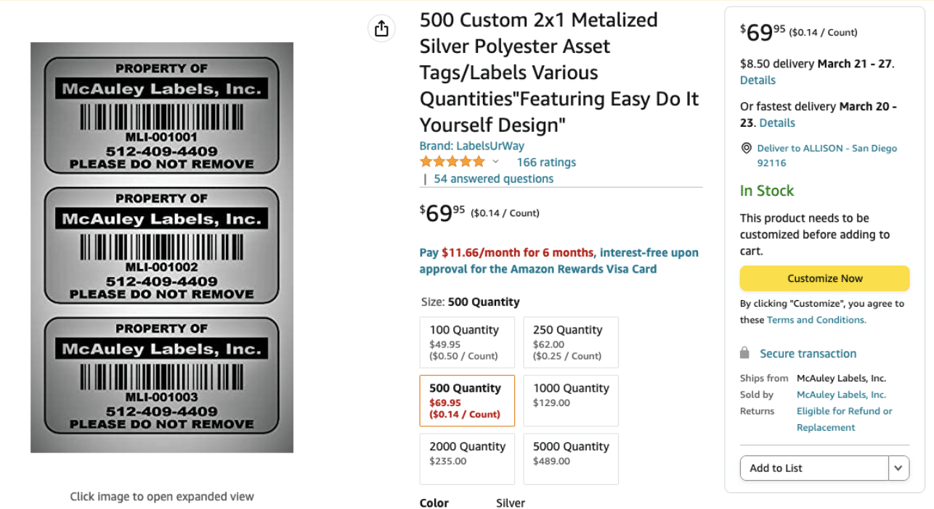 You can now order asset tags through online retailers or directly from their manufacturer. Providers will also work with you to create the custom labels you need. Companies who specialize in asset management labels can help you choose the style or materials you need.
If resources are extra tight, you can print color or black and white barcodes yourself. The drawback is that these stick-on labels may not hold up over years of wear and tear.
5. There are different labels for different needs
Part of why asset tags are such a great way to keep track of your organization's property is that they come in so many different styles. Whatever your business, whatever type of assets you have, there are labels designed for you.
As we mentioned some of the most common label types are barcodes and RFID tags. Barcodes are less expensive but hold less data, while RFID tags come at a higher price point but are also easier to scan in large quantities.
When purchasing, factors to consider include the label size, level of durability, application surface, and what information needs to be included on the label. With so many different types of asset tags available, you can easily find one that meets the needs of your particular situation.
Asset labels and asset management software
Asset labels are a simple and inexpensive way to mark your property, but they work best when paired with appropriate asset management software. While the asset labels stay with the equipment, the asset management system will store all the important information about each asset.
Asset management software serves as a database to track and audit your assets. With all your data in one place, you can spot trends, analyze return on investment, and gain actionable insights into when and how assets need to be maintained or replaced.
Asset management software can also help you prevent losses and redundancies. For instance, if you don't know where a certain asset is, you can look it up in the asset tracking software and see at which location it was last scanned. You're able to quickly locate what you need instead of searching for it or having to replace it.
When shopping for asset tracking software, it's important to consider usability. Employees are more likely to use a system that's user-friendly. It also saves a ton of time when your asset management system can integrate with your other software and tools. RedBeam, for instance, offers REST APIs, which allow it to work with almost any tool.
Ready to start using fixed asset tags?
The process of using a tag is simple, and the benefits are numerous. Asset tags help you keep track of your fixed assets by telling you when they were purchased, how much they cost, and where they are located. You can also use tags to mark items that need repairs or upgrades so that you know what needs attention. Tags can be used in asset tracking systems for inventory purposes as well as insurance documentation to prove ownership.
RedBeam has formed a solid partnership with some of the leading manufacturers resellers in the asset tracking industry, including Zebra Technologies. With their cutting-edge technologies, Zebra helps us provide customers with a comprehensive asset tracking package that is fully compatible with RedBeam software.
Zebra's products are backed by their exceptional warranty and guarantee that improves the speed and efficiency of asset tracking operations. As we are experts in Zebra products, we can offer customized hardware recommendations to match your business needs and budget.
If you're interested in learning more about how fixed asset tags can help with your asset management and physical inventory efforts, schedule a free RedBeam demo today!